CLASSES
New classes are offered each week and are uniquely structured around a monthly theme. Whether you are interested in dropping in for a single class or it is your desire to become an elite Chefs Club Member, each class focuses on true culinary techniques where teachers guide their students through original YCA recipes ~ all created exclusively for Young Chefs Academy by our own certified chefs.

January

Have you ever tasted a dish that was so delicious but you couldn't put your finger on what made it taste so good? Or wondered what the secret ingredients were to a chef's signature dish? Combining the right herbs and spices to an ordinary dish can transform it into a delicious culinary adventure full of deep, rich flavors. This month, we'll take you on another culinary journey to explore how specific herbs and spices from around the world enhance the flavors in their own unique way.



February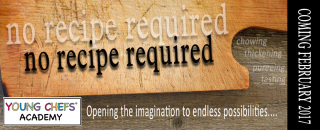 Be the intuitive author of your own recipes! "No Recipe Required!" opens the imagination to endless culinary possibilities to explore one-of-a-kind, Young Chefs Academy creations. Will it be an Indian-inspired stir-fry? An Asian-Mexican fusion pasta dish? Or maybe just an out-of-this-world breakfast casserole? No prior experience necessary...just a sense of adventure!



---
Register for classes below or call our Reservations Desk for additional information
972.335.4449
See our weekly class schedule below to find the right class for your young chef and get register today!
Call us to find out how you can save on weekly classes and take advantage of the many benefits of becoming a Chefs Club Member!


Class Type

Age Range*

Class Duration

Non-Member

Member*

KinderCooks - Busy Chefs 1/week (Tu 4.30pm or We 4.15pm)

Kindercooks - Mini Chefs 1/month (Sat. 10.30am)

Ages 4 - 6

Ages 3 - 5

60 minutes

60 minutes

$40/class

$30/class

$86/Month

n/a


JuniorChefs 1/week (Tu 4.15pm or 6pm / We 4.30pm or 6pm / Thu 4.30pm or 6pm)

Ages 6 - 11

90 minutes

$40/class

$106/Month

SeniorChefs 1/week (Tu 6.15pm / We 6.15pm / Thu 6.15pm)

Ages 12 - 18

90 minutes

$40/class

$106/Month
Chefs Club Members are eligible to enroll in our exclusive MasterChef program. Throughout the MasterChef program, students will participate in challenges, specials and earn patches to proudly display on their uniform for each level of the program completed. In addition to recognition patches, members will also be on their way to earning the elite YCA MasterChef Jacket.

* Members save over $50.00 per month as a Chefs Club Member.
* Memberships may be subject to a one-time registration and/or uniform fee.
* Age range for class types is used as an initial guide for class placement however age may vary within classes based on experience, skill, or other unrelated factors - assessment by YCA staff.
* Classes are scheduled based on interest and availability and are subject to rescheduling or cancellation due to low enrollment and/or participation.